Basic Hand Applique: Folk Art Fantasy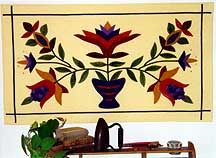 (6 hours) – Folk Art is an American tradition and this design reminds me of times gone by. The simple, elegant and flowing shapes create a wonderful quilt to hang on the wall or give to a loved one. The smoothness of the curves allows you to easily hand appliqué this 38" x 22-1/2" wall quilt. We will also learn to make sharp points. There are a few small areas which include reverse appliqué, just for a little more fun. Keep the Folk Art tradition alive as you stitch this wonderful little project.

Limit: 25 Students
Pattern plus additional items $17.00
The pattern and supply list for this workshop will be mailed via snail mail since the pattern needs to be traced onto the background fabric prior to the workshop.